Unlike other treatments, DiamondGlow® is customized to you — combining a precision diamond tip to match your skin's needs, targeted SkinMedica® Pro-Infusion Serums (Soon), and a perfectly curated, at-home SkinMedica® skincare regimen to keep your glow going.
DiamondGlow® device is a general dermabrasion device that gently removes the top layer of skin and delivers topical cosmetic serums onto the skin.

The transformative power of DiamondGlow® starts in our signature wand. Built with our innovative 3X13 cross 1™ technology, the wand simultaneously exfoliates, extracts debris, and infuses the skin with professional-grade SkinMedica® Pro-Infusion Serums(Soon), when pores are open and most receptive.
DiamondGlow® is more than a facial. Unlike traditional wet facial treatments, which rely on chemical exfoliation to treat skin at surface level, DiamondGlow's® patented recessed diamond tip wand delivers a next-level resurfacing treatment that deeply cleans and rejuvenates the skin.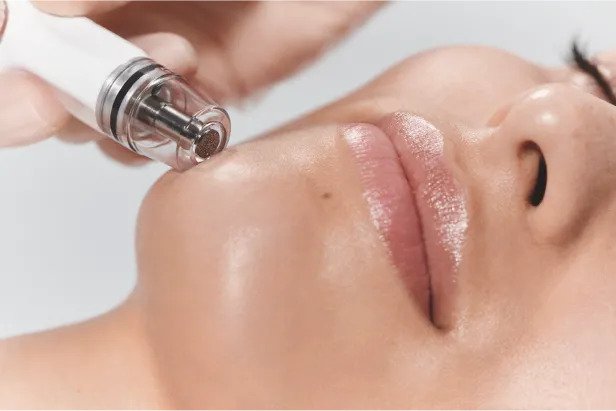 WHAT MAKES DIAMOND GLOW DIFFERENT
THE DIFFERENCE IS IN THE DIAMOND.
The six DiamondGlow® diamond tips allow your Aesthetic Provider to customize your treatment to suit your skin. Each tip is specifically designed for maximum efficacy and exfoliation for specific skin concerns.
3X1™ TECHNOLOGY
IN ONE SIMPLE STEP
To deeply cleanse the skin and remove debris from pores
With nourishing SkinMedica®
Pro-Infusion Serums
The DIAMONDGLOW™ system has been designed to perform controlled exfoliation of the skin simultaneously with the delivery of unique topical solutions. The treatment objective is to improve outcomes of dermatological conditions.
HANDPIECE AND DIAMOND TIPS
The DIAMONDGLOW™ patented handpiece uses real diamonds to help exfoliate at a controlled-depth, extract dirt and debris, and infuse condition-specific serums into skin to help address a variety of skin concerns.
The DIAMONDGLOW™ includes one set of 6 sterilizable, diamond-encrusted treatment tips in the following grit sizes and diameters:
• Medium-Coarse (60 grit), 6mm diameter
• Medium (80 grit), 6mm diameter
• Medium-Fine (100 grit), 6mm diameter
• Fine (120 grit), 6mm diameter
• Very Fine (140 grit), 6mm diameter
• Smooth, 6mm diameter
WATCH DIAMONDGLOW® IN ACTION.
*IMPORTANT SAFETY INFORMATION
The DiamondGlow® treatment is not for everyone. You should not have a DiamondGlow® treatment if you have compromised skin quality. Tell your provider if you are pregnant or lactating, or if you have any medical conditions, including allergies, and if you are using topical medications on the area to be treated.
INSTANT RESULTS
"Result 1 treatment"
CONTINUED IMPROVEMENT
"Results after 4 weeks following 2 DiamondGlow® treatments"
CONTINUED IMPROVEMENT
"Results after 6 weeks following 3 DiamondGlow® treatments"