PRP is an abbreviation of Platelet Rich Plasma.
PRP can be obtained due to a strong centrifugal force by seperating the cells according to their molecular weights layer by layer.
During the R&D period of PRP HD Kit, we have examined the structures of all other PRP products and we have consulted to our medical doctors. Due to lack of knowledge and constitution of the many other products, we have developed safe, effective, injectable, re-suspension featured and quality product along with our doctors' qualified experiences.
We are not talking about an IVD Tube, or imported products and packed in bags or boxes. We are talking about our tubes developed for the purpose of PRP applications along with other supportive equipments for safe, sterile and effective applications.
WHAT IS OUR PRP KIT HAS MORE TO OFFER?
Injectable
PRP HD Kit is not a Blood Storage Tube or Blood Seperation kit unlike the many other products. The requirements of CE Class IIb has been acquired.
Does not include Ficoll
Unfortunately, some IVD tubes are marketed as PRP products. IVD tubes' intended use are diagnoses outside the human body. The section of the catalogues of these tubes express that "do not inject to humans" .
CE Class IIb Certiicate
According to 93/42/EEC directive Annex IX and MEDDEV guidance document Classification of the Medical Devices MEDDEV 2.4/1 Rev 9, June 2010, expresses on Rule 3: Non-Invasive devices that modify biological or chemical composition of blood, body-liquids or other liquids intended for infusion into the body are in Class IIb. PRP HD Kit has CE Class IIb medical device certificate.
Not just a blood storage tube, but a real prp kit.
There are various products in the market sold as PRP tubes or collection of products along with PRP Tubes. As many of them are not certified to be used on PRP procedures, also some of tubes have certificate as "Blood Storage Tube" or "Blood Seperation Kit".But, PRP HD Kit is equipped with every necessary equipments to be used on PRP Procedures.
Includes Anticoagulant
Blood Storage Tubes and Blood Seperation Kits do not include any anticoagulant. So, instructions lead the user to collect anticoagulant from outer sources that eliminates the standardization of anticoagulant quality and increases the risks of choosing the wrong anticoagulant.PRP HD Kit does not let the user to change the anticoagulant or have the risk of misusage of anticoagulant.
Re-suspension mechanism
Due to strong centrifugal force, the clump formation of the platelets can occur. Re-suspension of the platelets helps to homogenize the platelets in the plasma milieu.
Cell-Cell Interaction
Cell-Cell interaction determines that the platelets' role to become proaggregator and interact with the other cells around the microenviroment. Publications have shown that the PRP+RBC in collagen-induced activation leads ADP and ATP synthesis fivefold - sevenfold in comparison to PRP alone. LR+PRP or LP+PRP is depending on the doctor's consultation to his/her patients. PRP HD Kit offers all to doctor's choice.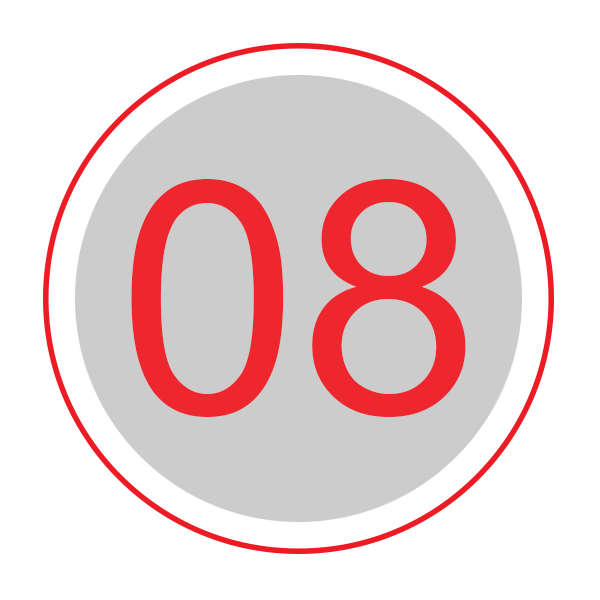 No Gel
Some kits have gel in the tubes. During centrifugation, gel keeps RBCs under the gel. But RBCs are bigger molecular structures than platelets and during the centrifugational movement of the cells, RBCs collect many Platelets under the gel along with RBCs. Also, it is a risk that the gel may be allergen. In some cases, there may be some risks to collect the gel inside the tubes and re-inject to patients. Due to those risks, PRP HD Tubes do not include gel.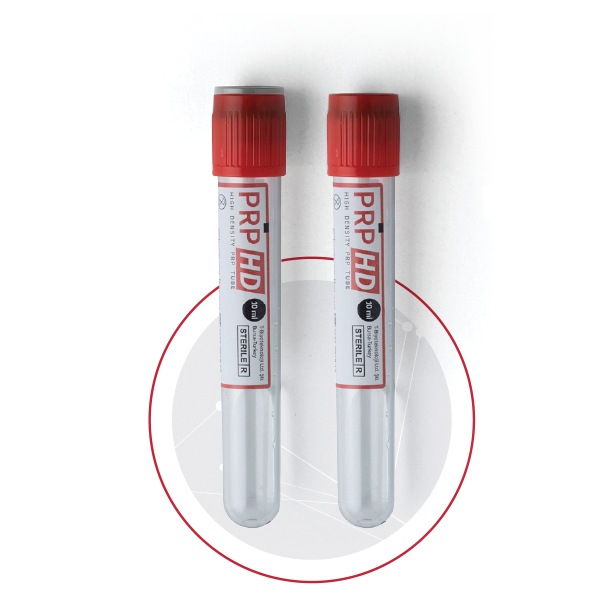 PRP HD TUBES
PRP HD Kit includes 2 PRP HD Tubes in each kit. PRP HD Tube is a 10ml volume, vacuumed tube, includes 1ml of anticoagulant. PRP HD Tube is a sterile tube. The tubes do not include Ficoll or gel. PRP HD Tubes are non-hemolytic and non-pyrogenic. It is recommended that 2 ml of PRP shall be harvested from each PRP HD Tubes. And totally it can be harvested 4ml of PRP from 2 (two) PRP HD tubes.
PRP HD RE-SUSPENSION TUBE
PRP HD Kit includes 1 PRP HD Re-Suspension Tube in each kit. PRP HD RE-Suspension tube is a 5ml volume, plain tube. PRP HD Re-Suspension Tube is a sterile Tube. The tube is non-hemolytic and non-pyrogenic. Total 4 ml of PRP is collected to 5 ml PRP HD Re-suspension tube according to instructions of the manufacturer. Recommended Re-Suspension process is gently shaking the tube for 30 seconds - 1 minute.
INJECTORS & NEEDLES
There are 2 injectors in each kit. One of them is 5ml capacity and the other one is 1 ml capacity sterile injectors. 5 ml injector is used to collect the PRP and to carry the PRP to PRP HD Re-Suspension tube. 1 ml injector is used to apply the PRP to the patient. There are 3 needles in each kit. A Long Needle, a 21G Needle and a 30G needle. Long needle is used to harvest the PRP from PRP HD Tube and to carry the PRP from PRP HD Tube to PRP HD Re-Suspension Tube. 21G needle is used to harvest the re-suspended PRP inside from the PRP HD Re-Suspension Tube. 30G needle is for injection.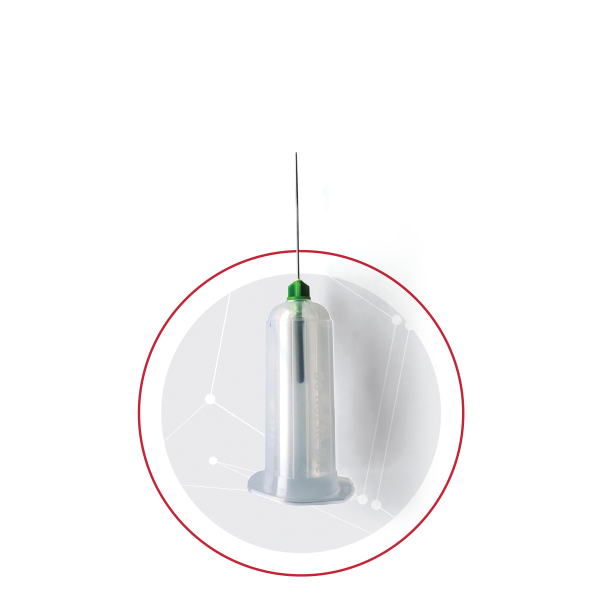 PHLEBOTOMY SET
There is a 2-pieces equipment in the kit. It is used to draw blood from patient into PRP HD Tube. No other equipment is needed to draw the whole blood from the patient.
EASY TO USE,
ONLY IN 4 STEPS
The whole blood is harvested into PRP HD tube from the patient's arm using phlebotomy set of PRP HD Kit. Each PRP HD Tube is 10ml volume including 1ml of anticoagulant. Tubes provide easily harvesting of the whole blood as they are vacuumed tubes. Both tubes stop when vacuum is finished. So, you have totally the 18ml of whole blood. After harvesting the whole blood, gently shake both tubes to permeate the anticoagulant into whole blood in the tubes.
Each centrifuging unit can be used to perform this process. Tubes shall be put accordingly in order to achieve the centrifuging balance. No special centrifuging device is provided or recommended. The most important subject for centrifuging is to perform 830 G for 8 minutes according to instructions for use. Swing rotor centrifugation devices are recommended for more convenient results. Centrifuging devices generally express the RPM (Repeat Per Minute) instead of G force but RPM and G Force can lead to different ratios due to radius difference of the devices. Please check our web page out to convert the RPM into G Force.
This section is the crucial part to obtain the platelet rich plasma. Please do not shake or move the tubes upside down after centrifugation process. After centrifugation you shall see 3 layers in the tube. It means centrifugation process is done properly.
The PRP collected into 5ml injector is carried to PRP HD Re-Suspension Tube. Re-suspension Tube is plain and sterile. This tube is 5ml volume and totally 4 ml PRP collected from PRP HD Tubes (2ml each as recommended) are placed in this tube. After carrying the PRP into PRP HD Re-suspension tube, gently shake the tube for about 30 seconds to 1 minute to avoid possible clumped cells. This process supports the homogenization of the cells in the plasma milieu. Attach 21G needle to 1ml injector and collect the PRP inside from the PRP HD Re-suspension tube. Change the needle to 30G and you are ready to apply the injection method to the patient.
PRP does not have a long history, but in a short time of period the treatment area of PRP has been expanded.
PRP can be used to stimulate and accelerate the healing of soft and hard tissue and bone in various areas. Commonly, aesthetic plastic and reconstructive surgery, dermatology and orthopedics are the key branches of medicine which PRP applications are being performed. Microneedling and PRP combinations, Laser and PRP combinations in plastic surgery and dermatology, Fat graft and PRP combinations in Plastic Surgery, joint applications in orthopedics are the example of PRP commonly used.
One of the PRPHD treatment processes is Centifugation, where this method is done using a special Swing Rotor centrifugation device.
S-106 Centrifuge has specifically been designed for PRP, SVF and PRF applications.
The Swing out rotor yields a high platelet and SVF recovery rate.
Smart Airflow design ensures chamber temperature rise is under control.
Perfectly compatible with the SVF protocol, gradual speed increase and decrease. Provides maximum stability for gel free PRP devices.
The perfect balance of the centrifuge prevents from shaking during centrifugation process, therefore the other blood cells do not get mixed with the PRP content and at the same time prevent unwanted cell concentration mistakes.
With controlled acceleration and deceleration technology, gel-Free PRP, PRF and SVF products are provided maximum stability.
It has a very high cell recovery rate thanks to its Swing-out rotor feature.
With controlled acceleration and deceleration technology, gel-Free PRP, PRF and SVF products are provided maximum stability.
Conventional swing rotor three times smaller than normal centrifuges takes up much less space with its structure and easily portable.
It provides maximum heat control with its intelligent ventilation and motor technology, preventing blood from hemolizing.
* In regenerative applications such as PRP and SVF, it is very important that cells remain below body temperature. Blood hemolysis occur when the sample is exposed to temperature above the body's, and in SVF applications, high temperature decreases cell viability. The extensive use of centrifuges, especially in hot weather, increases these possibilities.
Conventional swing rotor it's so small compared to centrifuges, it is light and elegant that it is everywhere you may want to take.
30-50% more platelet recovery rate
More efficient with brushless motor
With brushless motor technology, long life and maintenance free


* While the working life of ordinary Motors is no more than 3,000 hours, brushless motors can run for at least 10,000 hours. This significantly extends the product life. In addition, because brushless motors operate with much less friction, they provide much higher success in regenerative medicine applications where heat control is important, such as PRP, SVF.
Courtesy of Ali Tuncer, MD, Plastic Surgeon
Courtesy of Esin Barak, MD Dermatologist