THE FUTURE OF SKIN TECHNOLOGY
THE FUTURE OF SKIN TECHNOLOGY
THE FUTURE OF SKIN TECHNOLOGY
TIXEL® THE FUTURE OF SKIN TECHNOLOGY
Tixel® is a unique medical device that harnesses the force of nature to re-shape skin technology. Powered by our proprietary Thermo-Mechanical Action technology (TMA®), Tixel® combines heat and motion. Its medical grade in situ sterile titanium tip gently applies pure natural heat to the skin, safely moving forward for visible results. Tixel® is suitable for all skin types and for a wide variety of aesthetic and medical treatments, with its patented non-invasive technology and clinical results backed by numerous peer reviewed publications. Versatile, easy to use and ergonomic in design, Tixel® is ideal for clinics of any size and for multi-site practices.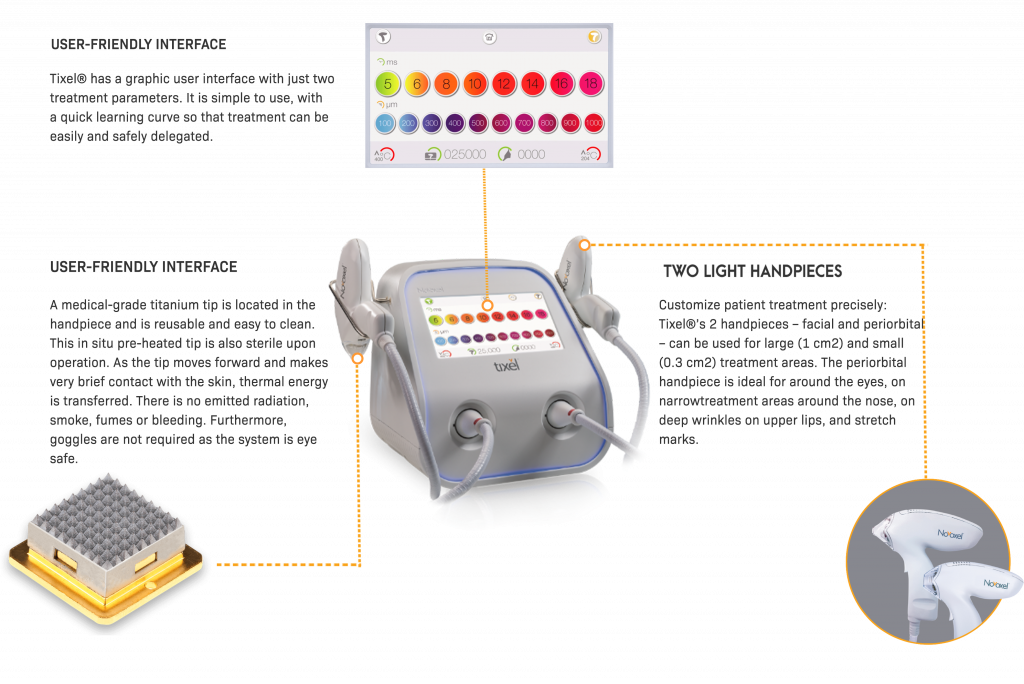 MEDICAL GRADE TITANIUM TIP
MEDICAL-GRADE TITANIUM TIP
A medical-grade titanium tip is located in the handpiece and is reusable and easy to clean. This in situ pre-heated tip is also sterile upon operation. As the tip moves forward and makes very brief contact with the skin, thermal energy is transferred. There is no emitted radiation, smoke, fumes or bleeding. Furthermore, goggles are not required as the system is eye safe.
TWO LIGHT HANDPIECES
"Customize patient treatment precisely: Tixel. 's 2 handpieces – facial and periorbital – can be used for large (1 cm2) and small (0.3 cm2) treatment areas. The periorbital handpiece is ideal for around the eyes, on narrow treatment areas around the nose, on deep wrinkles on upper lips, and stretch marks.
USER-FRIENDLY INTERFACE
Tixel® has a graphic user interface with just two treatment parameters. It is simple to use, with a quick learning curve so that treatment can be easily and safely delegated.
The tip consists of 81 tiny pyramids (9 x 9) which are heated to a temperature of 400°C . As the tip moves, it makes brief contact with the skin at the apex of the pyramids without protruding the skin. This creates a matrix of discrete nonablative hemispherical coagulation zones (depth of up to 250μ, width of up to 500μ).
HOW IS TIXELDIFFERENT FROM OTHER MODALITIES?
MULTI-FUNCTIONAL
Tixel can be used for multiple indications and treatment areas, providing excellent value for money and fast ROI.
SAFE, SELF-STERILIZING
During operation, the tip is maintained at a temperature of 400°C and is selfsterilized. There are no fumes, smoke or bleeding in treatment.
GREEN DESIGN
Save on logistics and save on waste - no disposables required.
COMFORTABLE TREATMENT WITH SHORT DOWNTIME
Pain and downtime are typically relatively low compared to ablative laser treatment. Make-up can be applied the day after treatment.
Peri Orbital Wrinkles
Harryono Judodihardjo, MD, England
Acne
Uichi Sai, MD, Tokyo, Japan
Peri Orbital Wrinkles
Harryono Judodihardjo, MD, England
Acne
Uichi Sai, MD, Tokyo, Japan
Neck
Lehavit Akerman, MD, Israel
Melasma
A. Margaritescu, MD, Romania
Neck
Lehavit Akerman, MD, Israel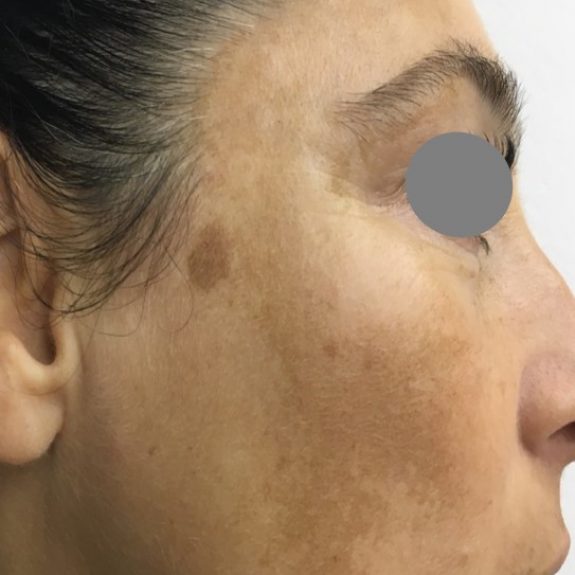 Melasma
A. Margaritescu, MD, Romania